News
A Task Force meeting in Kirchheim
Tuesday, 15.03.2011 - Gerda Strasser
25th - 27th February 2011 - Kirchheim im Innkreis- The European Village of Cultural 2010, Upper Austria.
Delegates from the remaining 10 European Villages of Cultural attended a Task Force meeting to discuss the future strategy of the "Cultural Villages 2020". The meeting was opened by Mr. Bert Kisjes (NL) - the main initiator of the European Villages of Cultural – with a short film and a brief report of the last and very successful 12 years together.
On Saturday, the Task Force continued their discussions on the "Visions & Strategies" required for the collaboration between villages in Europe. They were addressed by Ms. Sylvia Amann. Also discussed was how to meet villagers from other European Villages who have shown an interest in joining the group; and how to make available to them, the experiences, results and benefits gained by everyone over the last 12 years.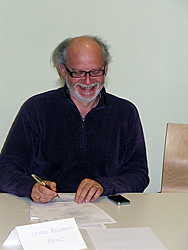 At the end of this very intensive workshop, the Mayor of Paxos, Greece (Spyros Bogdanos) signed the Community Partnership document which had been previously signed by other dignitaries in October 2010. This now means that a total of nine European Villages of Cultural have agreed to official partnerships with each other, thus ensuring and maintaining existing and long-standing friendships.
The 2011 European Villages of Cultural calendar is already filling up and everything begins with the official launch taking place in Wijk aan Zee (Netherlands) which also includes an Artists' Symposium. Then we have the annual June wine festival held in the Hungarian village of Palkonya, followed by similar events in Pergine Valdarno (Italy). Three festivals are also planned in Bystré (Czech Republic) which includes a music festival.
This year Schachendorf-Ströbeck (Germany) celebrate "1000 years" of chess and the French village of Mellionnec have invited their friends from Porrúa (Spain) and Kirchheim (Austria) to their musical festival.
Last year a group of Kirchheim senior citizens visited Schachdorf Ströbeck and thoroughly enjoyed interesting discussions about "change. Consequently in May this year, Kirchheim will open its doors to senior citizens from Schachdorf Ströbeck to continue their discussions.
Photo: The signing of the community partnerships by the Mayor of Paxos Mr. Spyros BOGDANOS. Photo Club Kirchheim.
-
Print
-
All news