News
22nd - 25th October 2010 - signing of the Town-Twinning Agreements and the Letter of Intent
Sunday, 31.10.2010 - Gerda Strasser
Friday 22nd:
Kirchheim welcomed delegates from the other 10 European Cultural Villages and following the formal 'Meet & Greet' everyone settled down to take a pictorial look-back at the last successful year in Kirchheim. This very impressive, informative and amusing slide-show was followed by a review of the International Youth Camp (July 2010) given by Elizabeth Danner (Kirchheim) who presented their 'workshop results' however, the absolute highlight of the evening was the official premiere of the film "10,000 Kilometres of Culture". This is a film documentary which highlights the different cultures and views experienced by the youths of our European Villages of Culture as seen through the eyes of the film crew from Wijk aan Zee.

Mr. Jürgen Gmelch, representing the European Commission in Austria, was thrilled with the results and informed the representatives of the cultural villages that they had his full support.

Saturday 23rd:
The morning began with discussions regarding the future of the Cultural Villages under the title of "Cultural Villages 2020" including the 'Visions & Strategies' for collaboration between our 11 villages of Europe. In the afternoon, Bert Kisjes (Wijk aan Zee) presented the book "A Lifelong Change" which contains several stories as told by attendees at the exchange meeting of the older generation.

Sunday 24th: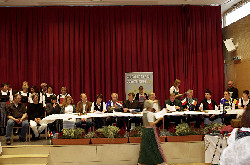 Today witnessed the ceremonial procedures surrounding the signing of the 'Letter of Intent' and the 'Town-Twinning Agreement' and was attended by the President of the Parliament LAbg Friedrich Bernhofer and the District Governor, Dr. Pumberger.

Deputy Mayor of Kirchheim, Ferdinand Forstenpointner, together with local councillors and delegates from the 11 European Villages of Culture; planted a 'European Tree as a symbolic gesture of the further integration of the Cultural Villages. This was followed initially by speeches from Ferdinand Forstenpointer and Friedrich Bernhofer then the signing of the 'Letter of Intent' by the representatives of the Cultural villages. This document simply outlines the intentions of the participating villages, but in-particular confirms that everybody wishes to continue with their European partnerships. Then came the signing ceremony of the 'Town-Twinning Agreements', but unfortunately (for legal reasons) not all representatives of the cultural villages could sign; none-the-less Eight cultural villages are now officially entered into partnerships with each other. These partnerships now endorse the long-standing friendships of the Cultural Villages and are manifested accordingly.
-
Print
-
All news