News
Many new friendships were made at the International Youth Exchange
Saturday, 31.07.2010 - Gerda Strasser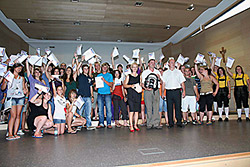 A week full of adventure, excitement and frivolity has sadly come to an end.
On Friday 16th July 2010 the young representatives of the 11 EU countries presented the results of their workshop "Our Fictional Village - Youth Culture" to the visiting Cultural Villagers from Wijk aan Zee (NL), Palkonya (HU), Mellionnec (FR)) plus invited politicians including Mrs. Landesrätin Mag.a Doris Hummer.
Our own future lies in the hands of these young people and tonight they proved – quite impressively - that they are willing to take on the responsibility of their own communities and actively help shape the future of Europe.
The evening concluded with a presentation of Youth Certificates to all participants of the International Youth Exchange by Landesrätin Mag.a Doris Hummer and Mayor Bernard Kern.
-
Print
-
All news