News
"Cultural Village of Europe 2010" welcomes his eleven European counterparts
Monday, 22.03.2010 - Gerda Strasser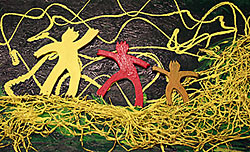 During the last weekend in March, Bernhard Kern - the Mayor of Kirchheim, "Cultural Village of Europe 2010" – welcomes his eleven European counterparts.
This weekend is of the utmost importance regarding the future of the 12 European Cultural Villages. Kirchheim is officially the "last" host of the 12 involved countries; therefore at the end of this year (in theory) all twelve villages would once again take their turn.
Consequently the future of the Cultural Village concept is the main conference theme. During the 2009 conference in Tommerup, Denmark; the discussion on how to proceed was set in motion. All the villages are in positive agreement that the idea of this international network should continue. Thomas Mueller, an Austrian Consultant for Regional and Project Development will lead the visionary workshop entitled "Village 2.0".
Also on the agenda is a discussion regarding the EU funding for Cultural Village exchanges and shows.
On Friday evening direct from Linz - the 2009 City of Culture - 15 international teachers and three directors from Brussels, Italy, Hungary, and Austria will visit the conference. They will introduce the program known as "COMENIUS", Roland Schwarz from the HBLA Ried (Austria) will speak on the 2-year project "Water Around Towns" and his colleague from Brussels – Jean Pierre Bartholeyens - will speak briefly on the program COMENIUS.
On Saturday, Ms. Meena Lang from the Europe for Citizens Group which represents the Austrian Ministry of Education; will discuss the possibility of funding the Cultural Villages from 2011 via the EU Programme "Europe for Citizens" (2007-2013).
Photo: Picture made by the recyclingworkshop which was hold at the weekend with Paxos and Porrúa.
-
Print
-
All news