News
1st Prize for the International Spring Music Festival of Paxos
Wednesday, 24.02.2010 - Faye Lychnou
The Awards Committee of the Union of Greek Theatrical and Music Critics", one of the oldest and most respected cultural associations in Greece, chose to award first prize in the category of "Cultural Organizations active in the Province" to the International Spring Music Festival of Paxos.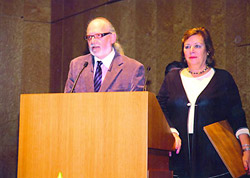 Kiriakos Loukakos, chairman of the Union of Greek Critics in association with Agelos Moshonas, chairman of the Cultural Organization of the Municipality of Athens held a press conference on Wednesday, 2 December 2009 at the Cultural Center of Athens Municipality to announce the Awards of both the Union of Greek Critics and of the "Karolos Koun Theater Association" for year 2009.
The award ceremony took place on the 7th December 2009 at "Dimitris Mitropoulos" hall of the Athens Megaron. The prize for the best Cultural Organization of the Greek Province was presented by mrs Maniaka, a representative of the Ministry of Culture and was received by Spyros Bogdanos, mayor of Paxos and by Nada Geroulanos, coordinator of the Paxos Festival concerts between Paxos, Ionian University of Corfu and the Athens Megaron.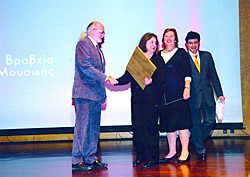 Before the award a short video of photos from Paxos landscapes and from various rehearsals and performances of the Spring Festival musicians was shown in the hall.
At the end of the ceremony two members of the Ergon Ensemble of the Spring Music Festival of Paxos, Ai Motohashi – Sideri (piano) and Kostas Panagiotidis (violin) played a music piece by Webern, impressing everyone present with their performance skills.
The award of such a prestigious prize in a glamorous ceremony, in a world wide famous concert hall exceeds the simple reward of the work that a few of Paxos loving people offer every year to see the International Music Festival of Paxos open its doors. It is a solid proof that the island of Paxos is more than just a beautiful island. It is a place of culture, full of talented and driven people, able to accomplish important tasks with very little means.
If more of us consider this fact often, then the vortex of everyday life will not manage to drag us into the misery and abandonment of the Greek province. As Paxos people prove with their step by step accomplishments, small, remote villages everywhere in the European province could stand above all the impossibilities, the incapability, the weaknesses they are faced with. And just for that they deserve everyone's support!
-
Print
-
All news