News
Kirchheim - 1st Village Exchange with Paxos and Porrúa
Wednesday, 17.02.2010 - Gerda Strasser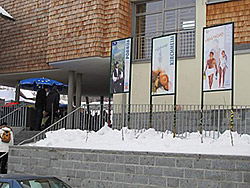 Kirchheim, "Cultural Village of Europe 2010": The first major cultural exchange with villagers from the Greek community of Paxos and the Spanish community of Porrúa took place between the 12th and 15th February 2010.
On the Friday afternoon, full of joy and anticipation the Kirchheimers waited patiently for their guests to arrive. Eventually at 5pm, Bernhard KERN (the Kirchheim Mayor) cordially welcomed his European counterparts; Spyros BOGDANOS (Paxos) and German ROMANO SOBRINO (Porrúa) and all our friends from both countries.

In addition to a full and lively weekend program, there was a very important item on the agenda in regard to how local and Austrian government authorities dealt with 'waste' and 'recycling'. This included lectures, workshops and field trips to local re-cycling centers and all of our guests found this information to be very practicable and interesting, consequently they were keen and enthusiastic to participate with the workshops held on Saturday.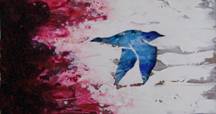 Under the guidance of local artiste Johann Lengauer, a group of young people from Kirchheim joined by others from Paxos and Porrúa, were invited to create pictures utilising re-cycling material. The chosen theme for this were the three figures portrayed within the Cultural Village logo. Although each person created a picture for themselves as a reminder of their visit to Kirchheim; a selection of the finished art work will remain and be displayed in the entrance hall of the MID (Mitten im Dorf).
On Sunday afternoon the 1st European Market took place and exceeded everyone's expectations. In addition to Kirchheim residents, people came from far and wide to witness and enjoy this unique event.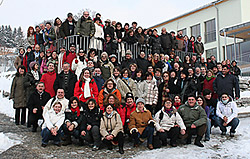 Both our Greek and Spanish guests cooked and produced their own special delicacies and together with a selection of drinks (alcoholic and non-alcoholic) offered them to the masses. In addition to Greek & Spanish arts and crafts, there were also local Austrian traders and our own 'Goldhaubengruppe' ladies provided delicacies such as Kirchheimer 'Bauernkrapfen'. In the main-event hall, everyone was entertained by music, singing and dancing from our European visitors. It was a joyous festival of music and colour with our guests dressed in traditional costume and judging by the applause and cheers of encouragement, everyone enjoyed the warmth and passion quite obviously shown in the performances.
For a little over-view of the event you can vist the following link:
http://tvthek.orf.at/programs/70016-Oberoesterreich-heute/episodes/1246295-Oberoesterreich-heute

-
Print
-
All news