News
Let us have a nice and fertile 2010
Thursday, 31.12.2009 - Bert Kisjes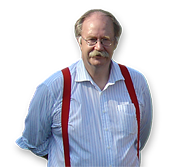 Bert Kisjes
In the coming year young people from our youth camps will make a film about their experiences. They will meet on the 2nd and 3rd of January in Wijk aan Zee to prepare the film. In spring they will visit Killingi Nomme and Paxos and in summer the other villages. On the Cultural Village meeting in autumn in Kirchheim the film will be shown.
I am sure they will try to make an interesting film because they are ambitious and they will spend a lot of time on it. They will be looking, mailing around and thinking all year long about items like 'Europe' and 'village'. They will travel along the twelve villages.
In the preparation-papers I found the following sentences that I want to share with you:
"The city is for lots of young Europeans the symbol of the future, of a globalized world. For some people it is even a condition for international cooperation. The village is the symbol of the world of their parents and grandparents, of the old world. Our project aims to show that young people living in villages are not at all excluded from European experiences. What is more, while the cities of Europe resemble each other more and more, the European villages change at a slower rate and preserve their identity. European exchanges on the scale of villages give therefore a better contrast of cultures and in a more thorough picture of what different countries in Europe really stand for."
All I wish for 2010 is that these young people may succeed. Please, everybody who meets them, be a help for them. When we started Cultural Villlage of Europe in 1999 we did not expect such results!
Let us have a nice and fertile 2010
-
Print
-
All news